DevOps Engineer, Cluj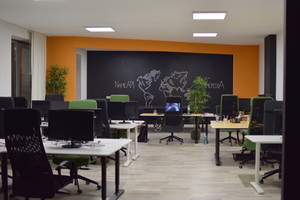 About us
Optimaize SRL, a Swiss software company with development office since 2006 in Cluj-Napoca, develops the global leading software for handling personal names.
We are looking to hire a DevOps Engineer to join our team in Cluj-Napoca. If you're hard-working and dedicated, Optimaize is a perfect place to grow your career. Apply now!
Job Overview
At Optimaize our success depends on IT systems that are handled by a DevOps Engineer who is making sure they are functioning properly. We're seeking an experienced DevOps who will protect our critical systems and assets, build solutions, and assist in developing the overall IT strategy.
Technology stack
Ansible
Docker, Kubernetes (K8s)
Jenkins, Git
Elasticsearch/OpenSearch/ELK
Zabbix
Java
What you will do
perform server administration tasks (ex: user/group, security permissions, group policies)
update systems and technologies to the latest versions
research event-log warnings and errors
monitor resources to ensure that systems architecture components work together seamlessly
troubleshoot hardware and software errors by running diagnostics, documenting problems and resolutions, prioritizing problems, and assessing impact of issues
perform regular backup operations and implement appropriate processes for data protection, disaster recovery, and failover procedures
provide documentation and technical specifications to IT staff for planning and implementing new or upgrades of IT infrastructure
About you
Hard facts:
bachelor's degree (or equivalent) in information technology, computer science, or a closely related field, or equivalent experience required
strong knowledge of systems and networking software, hardware, and networking protocols: Docker, Kubernetes, Jenkins, Git, Continuous Integration
strong knowledge of implementing and effectively developing helpdesk and IT operations best practices, including expert knowledge of security, storage, data protection, and disaster recovery protocols
critical thinking skills, decisive judgement, and the ability to work with minimal supervision
accuracy and attention to details
organization and prioritization skills
problem analysis and ability to solve problems efficiently
English: fluent speaking and writing, any other language is a plus
excellent and effective communication skills
Attitude:
team-oriented person
positive person
results driven "finishes the job"
organization and prioritization skills
extreme attention to detail
What we offer
A place in an open-minded and professional young team where your work is valued and your ideas are heard.
Also:
competitive salary
super flexible schedule, work at the office, from home, or abroad
authentic Swiss chocolate from the candy bar
private health insurance
Our office:
comfortable Swedish desks and chairs
lounge to relax, read a book, or play board games
PlayStation gaming corner
terrace with lounge and grill
table tennis (indoor/outdoor)
billiard table (9 ft)
kicker table (masa de fotbal / csocsó)
Work hard and ride hard
Our technical staff is entitled to our free hard enduro motorcycle training and tours program, operated by our friends at Enduro Nuts.
Now is the best time
Are you excited about this opportunity and think you're a good fit? Do you not mind or even enjoy coaching colleagues? Can you see yourself working at our office? Then send us your CV now: career at optimaize.com.