Senior Java Developer, Cluj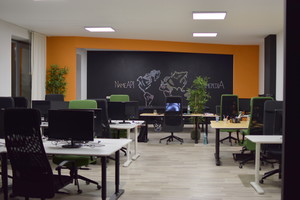 About us
Optimaize SRL, a Swiss software company with development office since 2006 in Cluj-Napoca, develops the global leading software for handling personal names.
About the job
To further extend our niche product, a highly available Java server software, we're looking for self-organized, self-motivated, self-everything Java experts to extend our team.
Also:
we actually write software, we develop our own product
you take the difficult tasks that require ingenious solutions
best ideas and arguments win (not hierarchy or job title)
it's still programming, not project management, not paperwork
Being a small company, every brain counts.
About you
Hard facts:
8-10 years of daily programming experience in Java
University degree in computer science (bachelor), top 5% student (yeah)
or no fancy University results because it's useless, but a great self-taught programmer
English: fluent speaking and writing, any other language a plus
Attitude:
you're sold on Java
you still enjoy programming
organized, self motivated
positive person
results driven "finishes the job"
don't have to "know it all", but interested in learning new technologies and ways
attention to detail
don't mind or enjoy mentoring less experienced team members
Technologies we use
Java SE 11, Maven, Spring, graph databases, Elasticsearch, some SQL, web services, IDEA, Linux for deployments, Docker, Kubernetes, Jenkins, Git.
What we offer
We offer a place in a fun yet professional team and a friendly work environment.
Also:
competitive salary
super flexible schedule, work at the office, from home, or abroad
authentic Swiss chocolate from the candy bar
private health insurance
Our office:
comfortable Swedish desks and chairs
lounge to relax, read a book, or play board games
PlayStation gaming corner
terrace with lounge and grill
table tennis (indoor/outdoor)
billiard table (9 ft)
kicker table (masa de fotbal / csocsó)
Write soft and ride hard:
Our Java developers are entitled to our free hard enduro motorcycle training and tours program, operated by our friends at Enduro Nuts.
Now is the best time
Are you excited about writing software and seeing it in production? Do you not mind or eve enjoy coaching colleagues? Can you see yourself working at our office? Then send us your CV now: career at optimaize.com.